I'm so excited to have my first ever guest blogger today:
Karly
from
Miss in the Midwest
! I've been a reader of her blog for a few months now and I love reading every single post! She has an amazing lifestyle blog focusing on everything from beauty favorites, amazing recipes, to gorgeous outfit posts and more. Recently she's been sharing bits of decorating her new apartment & has some fun furniture DIYs coming up!
-----
Hi, all! You've got Karly with a K today from
Miss in the Midwest
. I want to give a big thank you to Carly for allowing me to take over her site today!
Now, let's get down to business, shall we? High-end makeup and beauty products are beautiful things, but they quickly can burn a hole in our pockets. Drugstore beauty items have come a long way in recent years, so I've rounded up a few of my must-have drugstore products that are equally as good (if not better!) than their more expensive counterparts.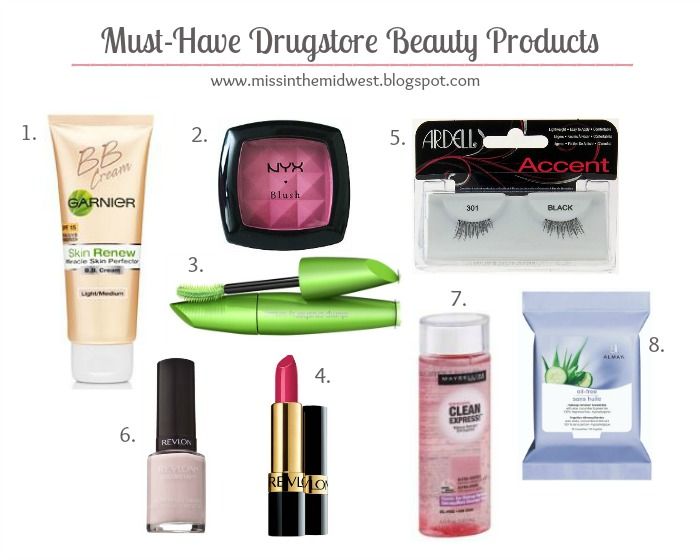 Garnier Skin Renew Miracle Skin Perfector BB Cream – I only started experimenting with BB creams last summer, and I quickly fell in love with this particular formula. It's light, non-greasy (I use the oil-free formula), and it provides just enough coverage when I want a "no makeup" makeup look. Plus, it's also never irritated my sensitive skin or caused breakouts.
NYX Powder Blush – It's difficult to find matte drugstore blushes, but NYX eliminates that issue. They have a variety of shades to choose from, and for only $4-5 apiece, you can afford to buy several! One of my all-time favorite colors is Dusty Rose.
CoverGirl Clump Crusher Mascara – As I've mentioned several times before on my blog, I am a loyal user of CoverGirl mascaras. The original LashBlast Volume mascara (the one in the orange tube) is always in my makeup bag, but the Clump Crusher formula almost has put the original to shame. It's lengthening, volumizing, and it really never clumps!
Revlon Lipstick – Revlon has long been known for their lipsticks, and if you've used them, you know why this is one of my favorite products. Again, there are SO many colors to choose from, which eliminates the issue of finding the right shade(s) to complement your skin tone. All the formulas also are longwearing and hydrating on the lips.
Ardell Accent Lashes #301 – I don't like the feeling of a whole strip of fake lashes on my eye, probably due to my small and slightly hooded eyelids, so I now solely use half lashes. I used these particular ones on my wedding day, and they provided just the right amount of drama and volume to my lashes while still appearing natural. These also are perfect if you like to wear winged eyeliner to accentuate the outer corner of the eye.
Revlon Colorstay Nail Polish – This is hands down the best drugstore nail polish I've ever used. I even like it more than some of my higher-end polishes, such as O.P.I. The brush is wider than brushes on most polishes, which makes it easier to get an even coat on your nails. This polish also typically lasts up to a week* on my nails without any chipping.
Maybelline Clean Express Waterproof Eye Makeup Remover – For anybody that uses Clinique's Take the Day Off makeup remover, I find this to be a similar product. It gets all my eye makeup off, waterproof or not, and it isn't overly oily or "liquidy" as some other eye makeup removers can be. And, it doesn't sting the eyes, which always is a bonus.
Almay Oil-Free Makeup Remover Towelettes – These have been a staple in my makeup collection for years. These literally never dry out – it doesn't matter how long it takes you to get through a pack, and it doesn't dry out midway through taking off your makeup like some other wipes do. They also are non-irritating and oil-free, which makes them perfect for others who have sensitive skin, just like me!
I hope this helps you decide what products to splurge and save on next time you head to the store. Be sure to head over to
Miss in the Midwest
for more weekly beauty talk!
------
Another
huge
thank you to Karly for writing this post for my blog today! I am definitely going to be on the lookout for that Maybelline makeup remover! Make sure you stop by her blog & follow her on
bloglovin
,
twitter
, and
facebook
!